Céad Míle Fáilte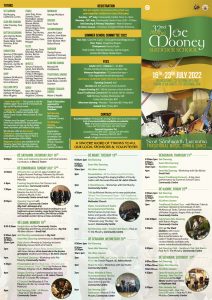 Every July Drumshanbo plays host to the award winning Joe Mooney Summer School, a week long festival of traditional Irish music, song and dance named after the man who did so much to promote the cause of Leitrim and his beloved town. The committee continue to emulate his high ideals, endeavouring to promote Leitrim's heritage of traditional music while handing on the best traditions of the past to future generations.
2022 Summer School Update
Following the government announcement on the 21st January 2022 removing most of the Covid 19 restrictions,
we are delighted to say that the 32nd Joe Mooney Summer School will take place from the 16th to the 23rd July 2022.
Please check our social media pages for updates as plans progress.
Registration
Places are still available in classes next week. In person registration takes place in the Mayflower on Sunday July 17th from 4-6pm and on Monday morning from 8.30 – 9.15 am.
If you have pre-registered you can collect our wristband from Josephine during registration.
Thank You
As the 32nd Joe Mooney Summer School comes to a conclusion we would like to gratefully acknowledge the help and support of our many local volunteers who gave so willingly and selflessly of their time over the past week. Your commitment and dedication is a remarkable reflection of community spirit at its best. The Summer School was a huge success and the positive feedback from participants and visitors alike has been overwhelming. This is largely due to your efforts and the pride you have in your community.
We would also like acknowledge the role of the Leitrim Volunteer Service for all their work during the week.
Without the support of all of our volunteers the event simply could not have gone ahead. We are deeply indebted to you all.
Mìle Buìochas.
The Joe Mooney Summer School Committee.
---
Sign up for our newsletter below